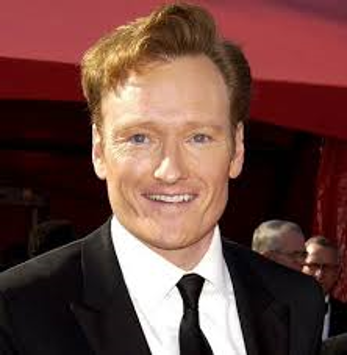 Conan O'Brien
Conan Christopher O'Brien (born April 18, 1963) is an American television host, comedian, writer, and producer. He is best known for hosting several late-night talk shows; since 2010, he has hosted Conan on the cable channel TBS. O'Brien was born in Brookline, Massachusetts and was raised in an Irish Catholic family. He served as president of The Harvard Lampoon while attending Harvard University, and was a writer for the sketch comedy series Not Necessarily the News. After writing for several comedy shows in Los Angeles, he joined the writing staff of Saturday Night Live. O'Brien was a writer and producer for The Simpsons for two seasons until he was commissioned by NBC to take over David Letterman's position as host of Late Night in 1993. A virtual unknown to the public, O'Brien's initial Late Night tenure received unfavorable reviews and remained on a multiweek renewal cycle during its early years. The show generally improved over time and was highly regarded by the time of his departure in 2009. Afterwards, O'Brien relocated from New York to Los Angeles to host his own incarnation of The Tonight Show for seven months until network politics prompted a host change in 2010. Known for his spontaneous hosting style, which has been characterized as "awkward, self-deprecating humor", O'Brien's late-night programs combine the "lewd and wacky with more elegant, narrative-driven short films (remotes)." He has hosted Conan since 2010 and has also hosted such events as the Emmy Awards and Christmas in Washington. O'Brien has been the subject of a documentary, Conan O'Brien Can't Stop (2011), and has also hosted a 32-city live comedy tour. With the retirement of David Letterman on May 20, 2015, O'Brien became the longest-working of all current late-night talk show hosts in the United States, at 22 years.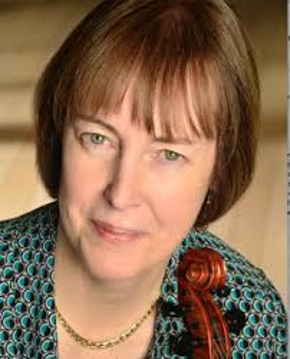 Liz Carroll
Liz Carroll (born September 19, 1956) is an Irish fiddler, composer, and recording artist. Liz has toured as a solo artist and with the Greenfields of America, Trian, as the duo Liz Carroll & John Doyle, String Sisters, and now as a duo with guitarist and pianist Jake Charron. Since she was 18, when she astounded the Celtic music world by winning the Senior All-Ireland Championship, Liz and her fiddle have been amazing audiences around the globe. She has been honored with many accolades, including a nomination for a 2010 Grammy, with John Doyle, for their duet album, Double Play. Liz was given 2010 iBAM award for Music and in April of 2011, she was awarded the Cumadóir TG4, the first American-born composer honored with Ireland's most significant traditional music prize. Liz's recordings are in the majority her own compositions, and they have given her a stature equal to that of her playing. 2016 saw the release of a new collaborative album, produced as companion music to an exhibition at the Art Institute of Chicago - "Ireland: Crossroads of Art and Design, 1690-1840 – The Music." Liz published a book of her compositions in 2010. Collected, now in its second printing, compiles the music that she began composing when just a child. In 1994, the National Endowment for the Arts awarded Liz a National Heritage Fellowship for her great influence on Irish music in America, as a performer and a composer. First Lady Hillary Clinton presented the award which bestows national recognition on artists of international stature. Liz was born in Chicago of Irish parents. Her father Kevin was from Brocca, County Offaly, and her mother Eileen was from Ballyhahill, West Limerick.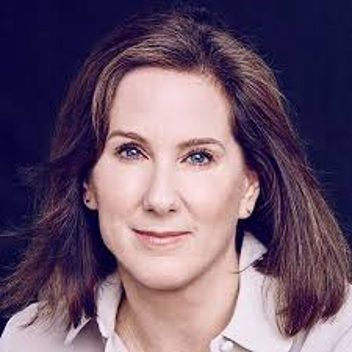 Kathleen Kennedy
Kathleen Kennedy (born June 5, 1953) , co-founder of Amblin Entertainment with Steven Spielberg in 1982 and currently the President of Lucasfilms LTD, is one of the most successful and respected producers and executives in the film industry today. Among Kennedy's credits are four of the highest grossing films in motion picture history: E.T. The Extra Terrestrial, Jurassic Park, The Sixth Sense and Star Wars: The Force Awakens. Her production credits include over 70 films including the Back to the Future trilogy, the Indiana Jones series, The Bourne Identity series, Twister, Schindler's List, The Color Purple, Munich, War of the Worlds, The Diving Bell and the Butterfly, and Lincoln. Kennedy is the recipient of the Producers Guild of America's prestigious David O. Selznick Award for Career Achievement and is currently on the Board of Governors for the Academy of Motion Picture Arts and Sciences. In June 2012 she joined George Lucas as Co-Chairman of Lucasfilm Ltd., to lead one of the most innovative and successful film and entertainment companies in the world. Kennedy has collaborated with George Lucas on movies such as Indiana Jones: The Kindom of the Crystal Skull and she is tasked with carrying Lucas's vision into the future. Kennedy, the daughter of a judge and attorney and a theatre actress, grew up in Berkeley, California, and began her career in entertainment with a local TV station in San Diego where she held a number of technical roles including video editor, camera operator and floor director. She then moved to Los Angeles where she produced a local TV talk show. Her break in the movies came when she got her first film production job working with John Milius who at the time was making Steven Spielberg's 1941. Impressed, Spielberg hired Kennedy as his secretary. She received her first full producer's credit with E.T. the Extra-Terrestrial in 1982 and her work on the Indiana Jones films propelled her to become one of the top producers in Hollywood. More collaborations with Spielberg followed and she was executive producer both for Jurassic Park and Schindler's List. Kennedy has worked with some of Hollywood's top directors including Martin Scorsese, Robert Zemeckis, Barry Levinson and Clint Eastwood. Kennedy is a beacon for other women who want to work in Hollywood at an executive level rather than being out in front of the camera and has helped dispel the myth of Hollywood being a male-dominated powerbase.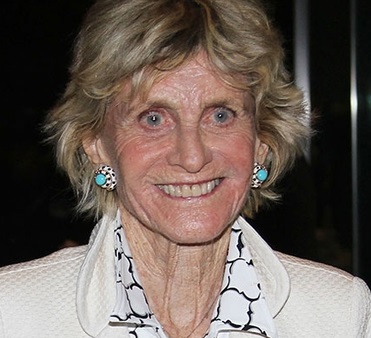 Jean Kennedy Smith
Ambassador Jean Kennedy Smith (1928 - 2020) was the 8th child of Joseph and Rose Kennedy. She was the founder of "Very Special Arts" known as VSA, a not-for-profit international organization on art and disabilities. She was the author of Chronicles of Courage and Very Special Artists. She served as U.S. Ambassador to Ireland 1993-98. She successfully advocated for Sinn Fein President Gerry Adams to be granted a visa to come to America in 1994 and was reprimanded by the Secretary of State for her challenging of two foreign service employees at the embassy In Dublin who were against the visa being given to Gerry Adams. Kennedy Smith worked closely with President Clinton's staff to discover a breakthrough in the Northern Ireland stalemate of the time and assisted in the peace negotiations representing the United States. She retired as Ambassador seven months after the historic Good Friday Agreement was signed. In 1998, then President of Ireland, Mary McAleese, conferred an Honorary Irish Citizenship on her, and at the ceremony, the Taoiseach of Ireland, Bertie Ahern, stated "You have helped bring about a better life for everyone throughout Ireland." Smith won several awards for her work in Ireland and in the disability community. In 2007, Smith received the Gold Medal Award from the Éire Society of Boston for her peace efforts in Northern Ireland and for her humanitarian work with disabled children. In 2009, Smith and Ted Kennedy were honored with the Tipperary Peace Prize for their support of the peace process in Northern Ireland. In February 2011, President Barack Obama awarded Smith the Presidential Medal of Freedom, the nation's highest civilian honor, for her work with people with disabilities. In October 2016, Smith published The Nine of Us: Growing Up Kennedy, a memoir of the Kennedy clan. On May 19, 1956, Jean Kennedy married businessman Stephen Edward Smith (1956-1990) in a small chapel of the Roman Catholic St. Patrick's Cathedral, New York. The Smiths have two sons, attorney Stephen Edward Smith Jr. and physician William Kennedy Smith, and two daughters, Amanda Smith Hood. Ph.D. and Kym Smith.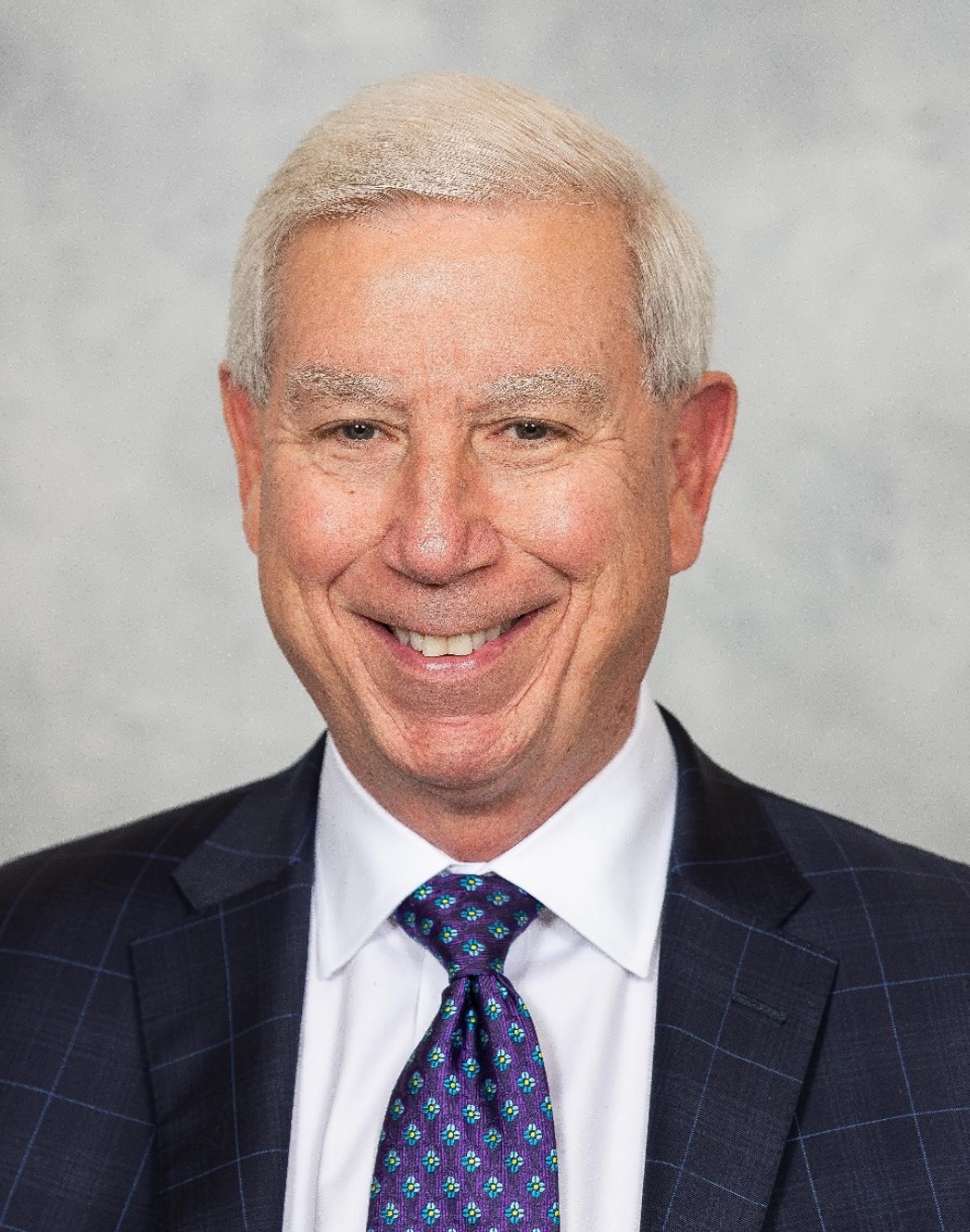 John F. McDonough
John F. McDonough (born May 19, 1953) John F. McDonough joined the Blackhawks in 2007 as President and was named President and Chief Executive Officer on June 1, 2011. Under his guidance, in what Forbes Magazine has called the "The Greatest Sports-Business Turnaround Ever," the Blackhawks have revitalized the team's profile and re-energized its fan base. Since McDonough joined the Blackhawks, the team has won Stanley Cup titles in 2010, 2013 and 2015, becoming the first organization in the NHL's salary cap era to capture three championships. In January 2020, the NHL named the Blackhawks the "Franchise of the Decade" for the 2010s. The Blackhawks have entertained over 525 consecutive capacity crowds at the United Center and have grown a season ticketholder base from 3,400 to more than 14,000. Additionally, the Blackhawks have led the NHL in attendance for 11 consecutive seasons. Prior to joining the Blackhawks, McDonough spent 24 years with the Chicago Cubs. During his time as President, the Cubs won the 2007 National League Central Division and continued to set all-time franchise attendance records. In addition, McDonough was the architect of the seventh-inning stretch celebrity "guest conductor" concept at Wrigley Field and created the annual Cubs Convention, which is now viewed as a prototype for team and league fan festivals. McDonough has also served as the Grand Marshal for Chicago's St. Patrick's Day Parade in 2014. A Chicago native, McDonough is a graduate of Notre Dame College Prep in Niles, Ill., and Saint Mary's University of Minnesota. He currently resides in the western suburbs and has three children, Colleen (Pete), Ryan (Katie) and Michael; and a granddaughter, Riley, and a grandson, Connor.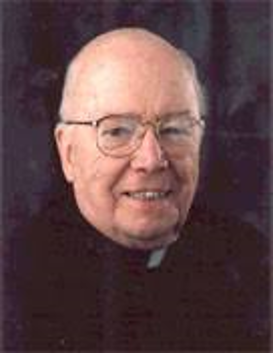 Monsignor John "Jack" Egan
Monsignor John "Jack" Egan (1916-2001) was a Catholic priest who fought for issues of social justice, racial equality and human dignity. Ordained in Chicago in 1943, Msgr. Egan lived his life as an activist priest for he believed that "the primary responsibility of the church [was] to be on the side of the poor." In that light, he challenged racial discrimination, unfair housing, predatory lending, and unfair labor policies. He responded to Dr. Martin Luther King's appeal to members of the clergy to march in Selma, Alabama in 1965 and joined King in Selma in support for the voting rights of African Americans. He also worked on issues of ecumenism, lay leadership within church, interracial initiatives, and the church's commitment to urban ministry. Although Jack was based in Chicago, his tireless efforts made him one of the country's best-known and admired priests. As Rabbi Robert Marx, the founder of the Jewish Council on Urban Affairs, stated, "[Msgr. Egan's work was] much larger than the walls of any church. In the world of action for social justice, he played a role that spanned religious beliefs and influenced an entire nation." For many years he was a member of the board of trustees of the Industrial Areas Foundation. The Egan Urban Center at DePaul University is named in his honor. Despite his deep identification with Chicago, Monsignor Egan was born in Manhattan, on 134th Street in what was then an Irish section of Harlem. His father, a bus driver, and his mother, a dressmaker, were immigrants from Ireland, and moved to Chicago when John was 6. After initially studying business at DePaul University, he transferred to Archbishop Quigley Preparatory Seminary, completing his studies at the University of St. Mary of the Lake.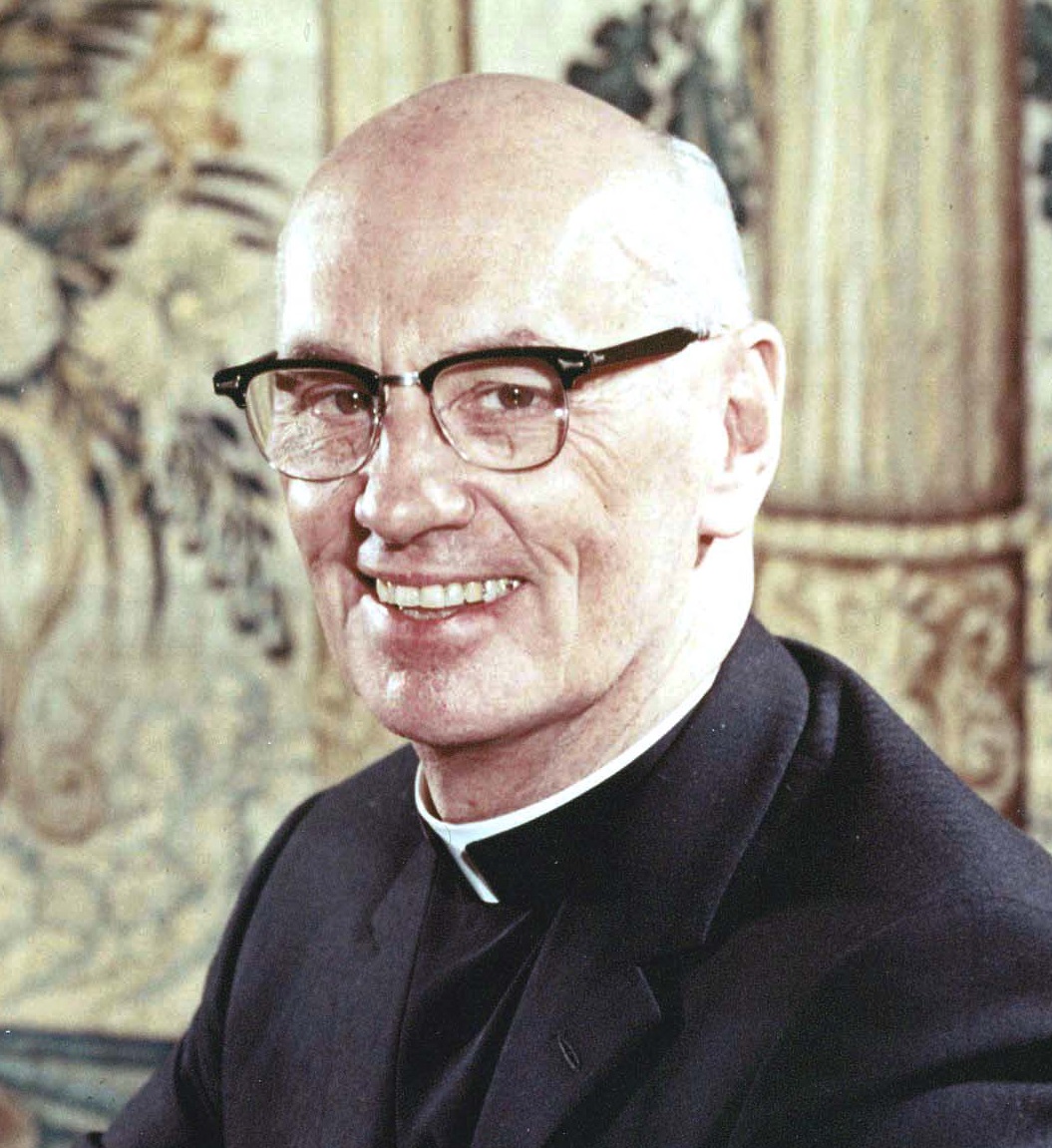 Father James F. Maguire, S.J.
Father James F. Maguire, S.J. (1904-2000) began his tenure as Loyola University's 20th president in July, 1955. He served as president for fifteen years. During his term, Fr. Maguire led the university through a period of growth and expansion. By 1970, Loyola had become the largest Catholic university in the U.S. The number of students doubled, from just under 7,000 in 1955 to 14,000 in 1970. Ten new buildings were constructed on the Lake Shore, Water Tower, and Medical Center campuses, and the university's operating budget grew from $4 million to $37 million. Father Maguire established Loyola's Rome Center for the Liberal Arts in 1962, and was instrumental in securing funding for the Loyola University Medical Center, which opened in 1969. In his role as head of University development, Father Maguire developed relationships with many of Chicago's business and civic leaders, and created several annual giving programs. In February of 1970, the Board of Trustees appointed Father Maguire as Loyola's first chancellor. Father Maguire's duties as Chancellor included developing financial support from alumni, private donors, and corporations, and acting as the University's public representative. Father Maguire as continued as Chancellor until 1976, when he was named Chancellor Emeritus. He continued to serve the University, cultivating a smaller number of donors, until his official retirement in 1994. Father Maguire died in 2000 at the age of 95.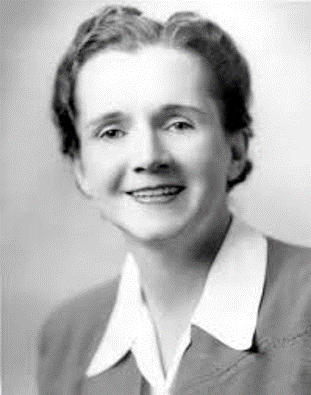 Rachel Louise Carson
Rachel Louise Carson (1907 – 1964) is an American marine biologist, author, and conservationist whose book Silent Spring and other writings are credited with advancing the global environmental movement. Carson began her career as an aquatic biologist in the U.S. Bureau of Fisheries, and became a full-time nature writer in the 1950s. Her widely praised 1951 bestseller The Sea Around Us won her a U.S. National Book Award, recognition as a gifted writer, and financial security. Her next book, The Edge of the Sea, and the reissued version of her first book, Under the Sea Wind, were also bestsellers. This sea trilogy explores the whole of ocean life from the shores to the depths. Late in the 1950s, Carson turned her attention to conservation, especially some problems that she believed were caused by synthetic pesticides. The result was the book Silent Spring (1962), which brought environmental concerns to an unprecedented share of the American people. Although Silent Spring was met with fierce opposition by chemical companies, it spurred a reversal in national pesticide policy, which led to a nationwide ban on DDT and other pesticides. It also inspired a grassroots environmental movement that led to the creation of the U.S. Environmental Protection Agency. Carson was posthumously awarded the Presidential Medal of Freedom by Jimmy Carter. Carson was born on May 27, 1907, on a family farm near Springdale, Pennsylvania, just up the Allegheny River from Pittsburgh. She was the daughter of Maria Frazier (McLean) and Robert Warden Carson, an insurance salesman.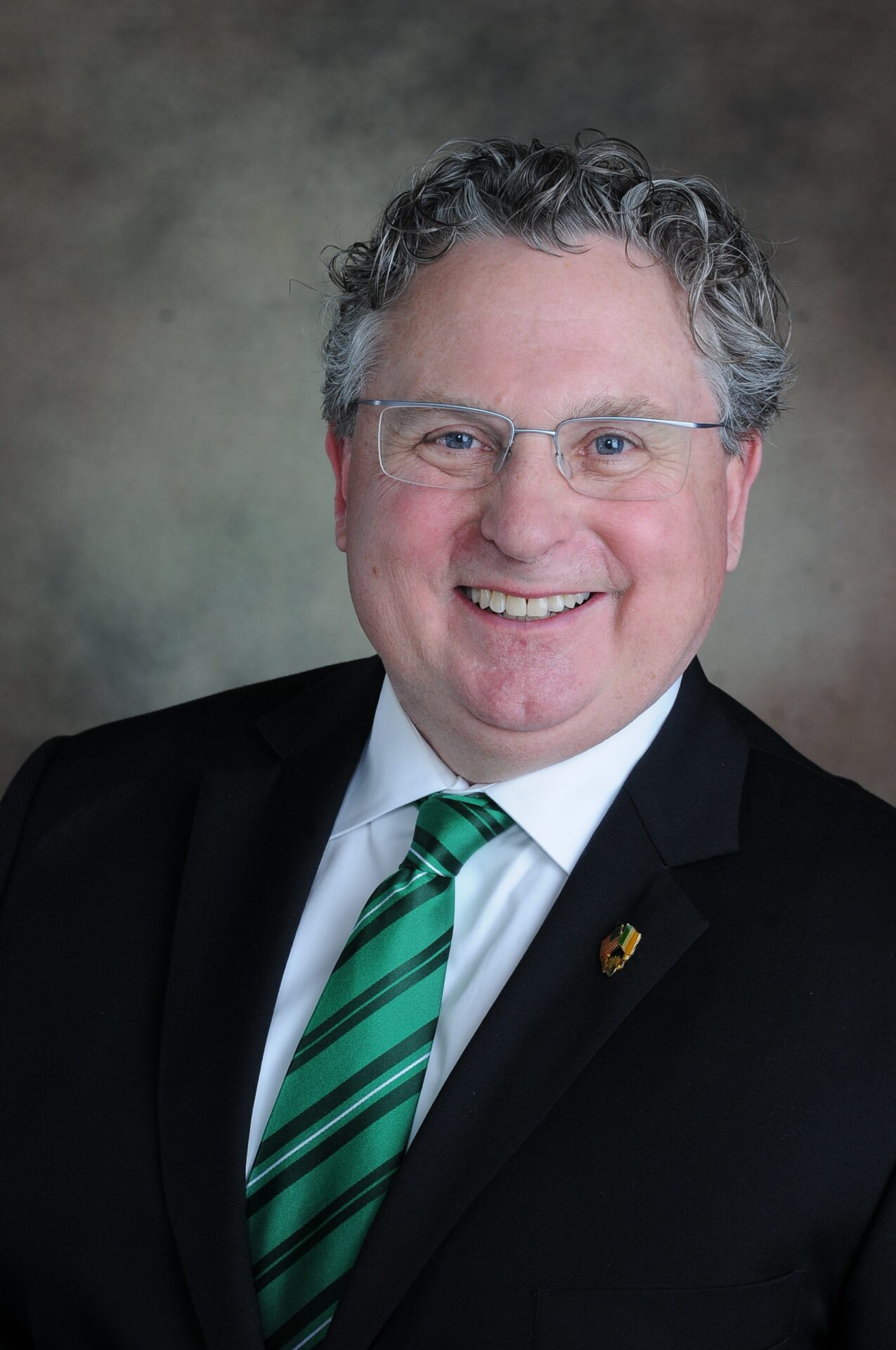 James F. Coyne
James F. Coyne is the Business Manager of Plumbers Local Union 130 UA. Jim is a 42-year member of the Union and in his first 25 years of his plumbing career, he worked on many commercial buildings and high rises in downtown Chicago. In 1987, Jim was appointed a part-time officer. He held multiple part-time positions until the year 2000 when Business Manager Gerald M. Sullivan, his mentor, appointed Jim to a full-time position as Recording Secretary. In 2002, Jim was appointed as the Financial Secretary-Treasurer where he served for the next 10 years. In 2012, Jim was elected as the Business Manager in the largest plumbing local within the United Association and has a jurisdiction of 17 counties in northern Illinois. In 2018, Jim and his slate of officers were re-elected to another term by "white ticket." In 2017, Jim and the Local 130 JAC Trustees constructed a new 50,000 square-foot State of the Art Training Center on the Local 130 campus in the West Loop. In 2018, the members of Local 130 approved Jim's plans to construct a multi-use parking garage on the northside of Plumbers Hall. On August 1, 2019, Plumbers Local 130 celebrated the opening of their first Wellness and Vision Center in Lemont, Illinois. Local 130's motto is "The Plumbers Protect the Health of the Nation," and Jim feels it is important to protect the health of our members as well. In fact, the health and well-being of Local 130 members is his top priority. Healthcare will be affordable and accessible to all Local 130 members and their families with zero co-pays and no deductibles. The Plumbers Local 130 Business Manager serves as the General Chairman of the Chicago St. Patrick's Day Parade Committee which produces the annual downtown parade. The Plumbers Union hosts the annual Parade Queen Contest as well as the annual parade fundraiser, the Corned Beef and Cabbage Dinner and this year's event heralded the highest attendance ever in history. Jim and the Board of Directors are currently planning for the 65th Anniversary Chicago St. Patrick's Day Parade celebration in March of 2020. For more than six decades, the Plumbers Local 130, UA has dyed the Chicago River a beautiful shade of green. This annual tradition has attracted hundreds of thousands of people from all over the world. The dyeing of the river is the largest tradition as the kick-off to Chicago's St. Patrick's Day events. Jim is humbled by the special honors presented to him recently which include the prestigious Irish Labor Leaders Award (Irish Echo Newspaper) in 2018, Irish Person of the Year (Emerald Society) in 2019 and the Irish American Hall of Fame - Hometown Hero (Irish American Heritage Center) in 2020. Jim was born and raised in Chicago by his parents Geraldine and James J. who is a 72-year Local 130 member. Jim's Irish roots trace back to his grandfather who emigrated from County Galway and his grandmother who hailed from County Mayo. Jim and his wife Michele reside with their dog Roxie in Chicago. They have one son and three daughters, one daughter-in-law and two son-in-law's and are the extremely proud grandparents of 11 grandchildren, ranging from one to fourteen years of age.