Bill Murray
William James "Bill" Murray (born September 21, 1950) was born and raised in Wilmette, Illinois. He is the fifth of nine children born to Lucille (née Collins) and Edward Joseph Murray II. Murray got his start at The Second City in Chicago and in 1974 he moved to New York City and was recruited by John Belushi as a featured player on The National Lampoon Radio Hour along with Dan Ayroyd, and Gilda Radner. He was a member of the cast of Saturday Night Live from 1977-1980. He earned an Emmy Award and later went on to star in comedy films, including Meatballs (1979), Caddyshack(1980), Stripes (1981), Ghostbusters (1984), What About Bob? (1991), and Groundhog Day (1993). Murray garnered additional critical acclaim later in his career, starring in many other films, including Lost in Translation (2003), which earned him an Academy Award nomination for Best Actor. Beginning with his roots at Second City, then later on Saturday Night Live, he was part of a group of pioneers who ushered in a new, frenetic type of sketch comedy fueled by improvisation.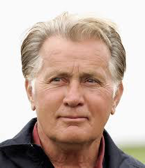 Martin Sheen
Ramón Antonio Gerardo Estévez (born August 3, 1940), better known by his stage name Martin Sheen, is an American actor who achieved fame with roles in the films Badlands (1973), Apocalypse Now (1979), The Departed (2006), and The Amazing Spider-Man (2012). He also starred on television as President Josiah Bartlet in The West Wing (1999–2006.) Sheen was born in Dayton, Ohio, the son of Mary-Ann (née Phelan; 1903–1951) and Francisco Estévez Martinez (1898–1974). Both of Sheen's parents were immigrants, his father from Parderrubias, Galicia, Spain; and his mother from Borrisokane, County Tipperary, Ireland. It is alleged that he adopted his stage name, Martin Sheen, from a combination of the CBS casting director, Robert Dale Martin, who gave him his first big break, and the televangelist archbishop, Fulton J. Sheen. A lifelong advocate of social justice, Sheen was awarded the Laetare Medal, the highest honor bestowed on American Catholics, from the University of Notre Dame; he received an honorary degree of Doctor of Letters, honoris causa for his work on social and Catholic issues from Marquette University and in 2011 he was awarded an honorary life membership in the Law Society of University College Dublin.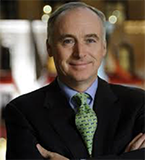 John Fitzpatrick
John Fitzpatrick is the president of the Fitzpatrick Hotel Group, North America, which owns and operates boutique hotels in Manhattan. He attended the prestigious hotel management course at the University of Nevada, Las Vegas and then, after honing his skills with two major hotel organizations in Chicago, John returned to Ireland to work at family hotels in Dublin and Bunratty. He opened his first New York hotel in 1991. He is on the boards of both the American Ireland Fund and the Ireland-US Council. He is the recipient of the prestigious Ellis Island Medal of Honor and was recognized for his contributions to the peace process in Northern Ireland by being invested with an honorary OBE by Her Majesty the Queen. In 2011, Fitzpatrick was the recipient of an honorary Doctorate of Science and Economics from Queen's University in Belfast. He was born in Dublin, was educatedin the United States and moved to the U.S. permanently in 1991. He became a U.S. citizen in approximately 2006.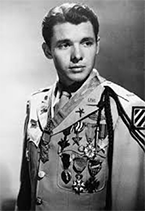 Audie Murphy
Audie Leon Murphy (June 20,1925 – May 28, 1971) was born to sharecroppers near the community of Kingston in Hunt County, Texas. His parents, Emmett Barry Murphy and Jose Bell née Killian, were of Irish descent. After the Japanese attack on Pearl Harbor, Murphy rushed to a military recruiting station. After initially being turned down for service due to his size (5' 5", 110 lbs), Murphy became the most decorated American soldier of World War II. He received the Medal of Honor, the U.S. military's highest award for valor, along with 32 additional U.S. and foreign medals and citations, including five from France and one from Belgium. LIFE magazine honored Murphy by putting him on the cover of its July 16, 1945 issue. That photograph inspired actor James Cagney to call Murphy and invite him to Hollywood to begin an acting career. Murphy's successful movie career included To Hell and Back (1955), based on his autobiography of the same title (1949). He starred in 39 Hollywood films. He died in a plane crash in 1971 and was interred, with full military honors, in Arlington National Cemetery. He married former airline stewardess Pamela Archer in 1951 and had two children, Terrance Michael "Terry" Murphy (born 1952) and James Shannon "Skipper" Murphy (born 1954).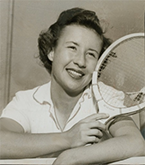 Maureen Connolly
Maureen Catherine Connolly (September 17, 1934 – June 21, 1969), known as "Little Mo", was an American tennis player. Her tennis career began at the age of 10 and at age 14, she won 56 consecutive matches and the following year became the youngest ever to win the U.S. national championship for girls 18 and under. In 1951, she won the U.S. Championships, and at just 16 years old she was the youngest ever to win America's most prestigious tennis tournament. Connolly successfully defended her U.S. title and won Wimbledon in 1952. For the 1953 season, she entered all four Grand Slam tournaments: the Australian Open, the French Open, Wimbledon, and the U.S. Open. Winning all four titles, she became the first woman, and only the second person, to win the world's four major tournaments in the same year, commonly known as the "Grand Slam." On July 20, 1954, she was involved in a horseback riding accident which crushed her right leg, ending her tennis career at age 19. In June 1955, Connolly married Norman Brinker; they had two daughters, Cindy and Brenda. She co-founded the Maureen Connolly Brinker Tennis Foundation to promote junior tennis, which is one of the largest private junior tennis foundations of its kind in the world. In 1966 Connolly Brinker was diagnosed with ovarian cancer, from which she died at age 34 in Dallas, Texas on June 21, 1969.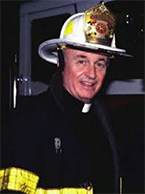 Fr. Michael Judge
Fr. Michael Judge (May 11, 1933 – September 11, 2001) was a chaplain for the NYC Fire Deparment who gave his life during the 9/11 attacks. Robert Emmet (Mychal) Judge was the son of Irish Catholic immigrants from County Leitrim and grew up in Brooklyn, N.Y. during the Great Depression. In 1948, at the age of 15, Judge began the formation process to enter the Franciscan community. He completed his training and was ordained a Franciscan priest in 1961. Upon entering the Order of Friars Minor, he took the religious name of Michael, later changing the spelling to Mychal. In 1986, he was assigned to the monastery of St Francis of Assisi Church on West 31st Street, New York, where he lived and worked until his death in 2001. In 1992, Father Judge was appointed chaplain of the Fire Department of New York. Upon hearing the news that the World Trade Center had been hit, Father Judge rushed to the site. Judge administered the Last Rites to some lying on the streets, then entered the lobby of the World Trade Center North Tower, where an emergency command post was organized. When the South Tower collapsed at 9:59 am, debris went flying through the North Tower lobby, killing many inside, including Fr. Judge. He is listed as the first recorded casualty of the 9/11 attacks. Judge was well known in the city for ministering to the homeless, the hungry, recovering alcoholics, people with AIDS, the sick, injured, and grieving, immigrants, gays and lesbians and those alienated by the Church and society.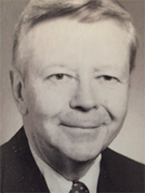 Lawrence McCaffrey
Lawrence McCaffrey is Professor Emeritus of History from Loyola University Chicago. His work includes an extraordinary production of writings, books, articles, short essays, and reviews about Irish and Irish American history. In 1976, he co-founded the American Conference on Irish Studies, a professional organization of academics with members from different countries. He received his B.A. from St. Ambrose College, Davenport, Iowa, his M.A. from Indiana University, and his PhD from the University of Iowa. He received an Honorary Doctor of Literature from the National University of Ireland, Dublin in 1987. Professor McCaffrey's publications enlightened not only the Irish in America but also the Irish in Ireland as to the contribution of Irish America to American history. Born in Chicago to a father from Co. Cavan, Larry McCaffrey has given his life's work to the study of the Irish experience in America. He is a pioneering social historian of the journey of Irish American Catholics from their beginnings as an unskilled impoverished minority to the current status as an affluent, powerful and highly regarded group in American society. He is the author of numerous books and articles including "The Irish in Chicago," "Textures of Irish America" and "Ireland: From Colony to Nation State". And since its publication in 1976, "The Irish Catholic Diaspora in America" became the standard college and university text on the Irish-American story.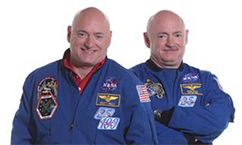 Mark & Scott Kelly
Mark and Scott Kelly were born in Orange, New Jersey on February 21, 1964 and are the sons Richard and Patricia Kelly, two retired police officers. They were and raised in West Orange, New Jersey and graduated from Mountain High School in 1982. The Kelly brothers are the only twins and only siblings to have both traveled in space. They most recently participated in NASA's Twins Study to determine how a year in space affects the human body. The Twins Study is comparing data from before, during and after astronaut Scott Kelly's one year mission in space with those of his identical twin brother, retired astronaut Mark, back on Earth.
Mark Kelly
Mark Edward Kelly is an American astronaut, a U.S. Navy captain and a naval aviator who flew combat missions during the Gulf War. He was selected to become a NASA space shuttle pilot in 1996 and flew his first mission in 2001 as pilot of STS-108. Kelly's first trip into space was as pilot of STS-108. After several delays, Endeavour lifted off on December 5, 2001, on the final Shuttle mission of 2001. In July 2006 Kelly served as pilot for STS-121 Discovery, the second "Return to Flight" mission following the loss of Columbia in February 2003. STS-124 Discovery was Kelly's first mission as commander. He received a B.S. degree in marine engineering and nautical science from the United States Merchant Marine Academy graduating with highest honors in 1986. In 1994, he received an M.S. degree in aeronautical engineering from the U.S. Naval Postgraduate School. Mark Kelly retired in October 2011. Kelly is married to former U.S. Congresswoman Gabrielle Giffords.
Scott Kelly
Scott Joseph Kelly is an American astronaut, engineer and a retired U.S. Navy Captain. A veteran of three previous missions, Kelly was selected in November 2012 for a special year-long mission to the International Space Station, which began in March 2015. He returned to Earth on March 1, 2016. He was commander of the International Space Station (ISS) Expedition 26. Kelly's first spaceflight was as pilot of Space Shuttle Discovery during STS-103 in December 1999. His second spaceflight was as mission commander of STS-118, a 12-day space shuttle mission to the International Space Station in August 2007. Kelly became a long-duration crewmember of ISS on October 9, 2010. He took over command of the station on November 25, 2010. Kelly received his commission via the Navy Reserve Officer Training Corps (NROTC) following graduation from the State University of New York Maritime College in May 1987 where he received a B.S. degree in Electrical Engineering.He also holds a M.S. degree in Aviation Systems from the University of Tennessee, Knoxville. He was designated a Naval Aviator in July 1989. Kelly retired in April 2016.