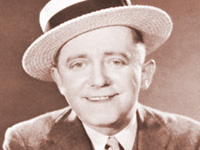 George M. Cohan
It has been said that George M. Cohan was America's greatest showman. Born to Irish-Catholic parents in Providence, Rhode Island, Cohan was a premier writer, actor, producer, playwright and director. He is still the only entertainer to have a statue erected to him on Broadway. Cohan was truly a pioneer in American musical theater and film. Mr. Cohan is perhaps best known for his popular song Over There, for which he was presented the Congressional Gold Medallion by President Franklin Roosevelt due to its contribution to American morale in World War I.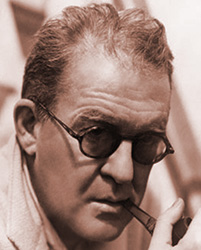 John Ford
John Ford (born John Martin Feeney) was a legendary American film maker with a career spanning over 50 years including over 140 films. Mr. Ford was a unique figure in American cinematic history with a career spanning both silent and sound pictures. He is known for developing the practice of shooting on location and the 'long shot' that features the character against a vast background. Some of Ford's most famous films include Stagecoach, The Informer, The Grapes of Wrath, Young Mr. Lincoln, The Man Who Shot Liberty Valance ,How Green Was My Valley, and of course, The Quiet Man starring John Wayne and 2011 IAHOF Inductee Maureen O'Hara. He was nominated for 11 Academy Awards and won 6. His father, John Augustine Feeney, was born in Spiddal County Galway and his mother, Barbara Curran, was born in the Aran Islands, in the town of Kilronan on the island of Inishmore.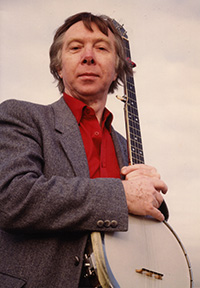 Tommy Makem
Known as the Bard of Armagh, Mr. Makem was an internationally acclaimed folk singer, musician, poet and storyteller. His distinctive baritone was the backbone of the sound of The Clancy Brothers and Tommy Makem that made folk music history starting in their early Greenwich Village days of the early 1960s and continued for decades through his solo career and partnership with longtime friend, Liam Clancy. Born in Keady, County Armagh, Tommy emigrated to the U.S. in 1955 before settling in Dover, New Hampshire. Tommy Makem was an ambassador of Irish music, storytelling and poetry, bringing his knowledge, love and wit to the world.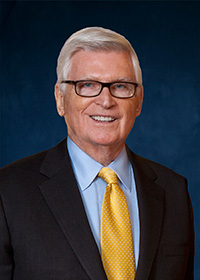 Patrick G. Ryan
As the founder and retired executive chairman of AON Corp, Mr. Ryan has been a strong donor and supporter of nearly every Irish charity in Chicago for several years. With roots in Tipperary, Mr. Ryan has established reinsurance and risk management operations in Dublin's International Financial Services Center, and made substantial acquisitions of Irish-based companies operating in its sector. The name Aon (Gaelic for one) was chosen to describe the unity of the many organizations that were brought together by Mr. Ryan. Following Mr. Ryan's retirement from Aon, Mr. Ryan in 2010 founded Ryan Specialty Group, a global insurance organization, with headquarters in Chicago, consisting of wholesale brokerage, various underwriting managers and other specialty insurance services to agents, brokers and insurance carriers.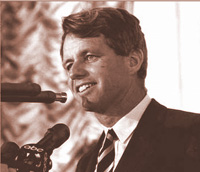 Senator Robert F. Kennedy
Robert Francis "Bobby" Kennedy was an American politician and Democratic Senator from New York. He was the U.S. Attorney General of the United States from 1961-1964, serving primarily under his brother, President John F. Kennedy, a 2011 IAHOF inductee. With his legacy as a noted civil rights activist and crusader against organized crime, Senator Kennedy helped to shape public policy on social issues in the 1960s that continue to further the national narrative today. His advisory position within his brother's administration is widely considered as vital in averting conflict with Cuba and the USSR and his later views on the Vietnam War helped to change the opinion of the average American citizen in regards to the conflict. In 1968, Senator Kennedy, in the midst of a run for the Presidency, was tragically killed, in some ways signaling an end to the optimism and idealism of the decade in which he served most prominently.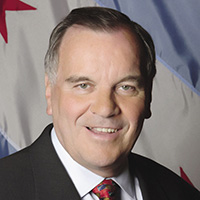 Mayor Richard M. Daley
Born in 1942 to Richard J. Daley, a 2011 IAHOF inductee, and Eleanor (Guilfoyle) Daley, Richard M. Daley is the longest serving Mayor of Chicago. With ancestors coming to the United States fleeing from the Irish potato famine, his paternal roots are from County Waterford and maternal roots are from County Cork. He served as an Illinois State Senator from 1972-80, Cook County State's Attorney from 1980-89 and became Mayor of Chicago in 1989 before leaving office in 2011. Considered one of the most powerful mayors in the country during his tenure, Daley worked to improve Chicago Public Schools, modernize the Chicago Transit Authority, beautify the city, and increase tourism. Mayor Richard M. Daley served the City of Chicago as its executive leader and brought a renaissance of renewed growth in the city's varied neighborhoods. He attracted business back to the city, renewed the city's theater district and preserved its historical movie palaces from certain demolition. By such actions, he elevated the cultural activities and business enterprises within the city.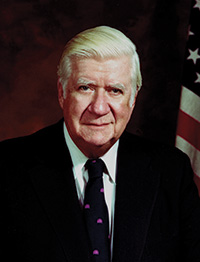 Speaker Thomas P. "Tip" O'Neill, Jr.
Thomas Phillip "Tip" O'Neill, Jr. was born to Thomas Phillip O'Neill, Sr., and Rose Ann (Tolan) O'Neill in 1912 near Barry's Corner in the Irish middle-class area of North Cambridge, Massachusetts, known at the time as "Old Dublin." O'Neill was an outspoken and influential member of the U.S. Congress, serving in the House of Representatives for 34 years and serving as the Speaker of the House from 1977 until his retirement in 1987. He was the second longest-serving Speaker in U.S. history after Sam Rayburn, and the longest consecutive serving Speaker. One of O'Neill's greatest accomplishments as Speaker involved Northern Ireland. He worked with fellow Irish-American politicians New York Governor Hugh Carey, Sen. Edward M. Kennedy, D-Massachusetts, and Sen. Daniel Patrick Moynihan, D-New York to craft a peace accord between the warring factions. Beginning with the "St. Patrick's Day declaration" in 1977 denouncing violence in Northern Ireland and culminating with the Irish aid package upon the signing of the Anglo-Irish Agreement in 1985, the "Four Horsemen" as they were called convinced both Presidents Carter and Reagan to press the British government on the subject.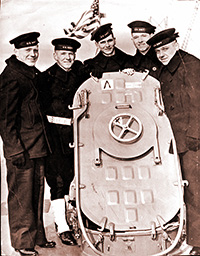 The Sullivan Brothers
The five Sullivan brothers, two of whom previously served in the Navy, enlisted in the Navy together on Jan. 3, 1942, less than a month after the Japanese attack on Pearl Harbor. They insisted that they serve together on the same ship. It was Navy policy to separate family members, but the Sullivans persisted in their request and the Navy relented. They served aboard the USS Juneau, a light cruiser. On Nov. 13, 1942, during the Battle of Guadalcanal, the Juneau was struck by a Japanese torpedo and sank. Francis "Frank" Sullivan, Joseph "Joe" Sullivan, Madison "Matt" Sullivan and Albert "Al" Sullivan died. George, the eldest, made it to a raft and survived for five days. The Sullivan brothers were awarded Purple Hearts and became national heroes, and their deaths served as a rallying cry for a nation at war. In response to their deaths, the U.S. War Department developed the Sole Survivor Policy, a set of regulations in the U.S. military that are designed to protect members of a family from the draft or from combat duty if they have already lost family members in military service. The United States Navy has since named two destroyers in honor of the Sullivan brothers.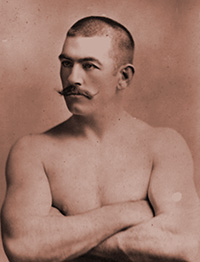 John L. Sullivan
One of the few 19th century athletes still revered today, Mr. Sullivan, nicknamed the Boston Strongboy, was the heavyweight boxing champion from 1882 to 1892 and his whole life mirrored the upward trajectory of the Irish-American experience. Considered one of the first sports superstars, he was the last bareknuckle boxing champion and the first American athlete to earn over $1 million. He was born in Roxbury, Massachusetts (now a part of Boston) to Irish immigrant parents, Michael Sullivan from Abbeydorney, County Kerry and the former Catherine Kelly from Athlone, County Westmeath/County Roscommon He was inducted into the International Boxing Hall of Fame in 1990 as a member of the hall's original class. with a record of 35 wins, 1 loss and 2 draws, with 30 wins by knockout.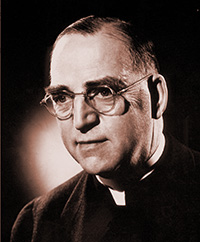 Father Edward Flanagan
Father Edward Joseph Flanagan, born in Roscommon, was a Catholic priest and the founder of what is arguably the most famous orphanage in the United States, Boys Town. The campus is not just an orphanage, but a center for troubled youth that has been a beacon of light not just in the Omaha, Nebraska community but nationwide since its founding in 1921. Under Father Flanagan's direction, Boys Town grew to be a large community with its own boy-mayor, schools, chapel, post office, cottages, gymnasium, and other facilities where boys between the ages of 10 and 16 could receive an education and learn a trade. A 1938 film starring Spencer Tracy, Boys Town, was based on the life of Father Flanagan, and Tracy won an Academy Award for Best Actor for his performance. On March 17, 2012, Fr. Flanagan was declared a Servant of God, the first step on the path to sainthood.