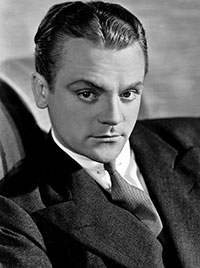 James Cagney
James Francis Cagney, Jr. (July 17, 1899 – March 30, 1986) was born in New York City. His father, James Sr. was an Irish American bartender, and by the time of James Jr.'s birth, an amateur boxer. His mother, Carolyn Nelson, was half Irish, half Norwegian. Cagney won acclaim and major awards for a wide variety of roles, but he is best remembered for playing "tough guys." Cagney's seventh film, The Public Enemy, became one of the most influential gangster movies of the period. Notable for its famous grapefruit scene, the film thrust Cagney into the spotlight, making him one of Warner's and Hollywood's biggest stars. In 1938, he received his first Academy Award for Best Actor nomination for Angels with Dirty Faces before winning the Oscar in 1942 for his legendary portrayal of another famous Irish American, George M. Cohan, in Yankee Doodle Dandy. He was nominated a third time in 1955 for Love Me or Leave Me. In 1974, Cagney received the Lifetime Achievement Award of the American Film Institute. Charlton Heston, in announcing that Cagney was to be awarded, called him "One of the most significant figures of a generation when American film was dominant, Cagney, that most American of actors, somehow communicated eloquently to audiences all over the world …and to actors as well." He received the Kennedy Center Honors in 1980, and in 1984 Ronald Reagan awarded him the Presidential Medal of Freedom. In 1999, the American Film Institute ranked him eighth among the Greatest Male Stars. He was president of Screen Actors Guild for two years.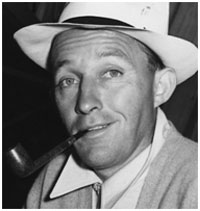 Harry "Bing" Crosby
Harry Lillis "Bing" Crosby (May 3, 1903 – October 14, 1977) was an American singer and actor. Crosby's trademark bass-baritone voice made him one of the best-selling recording artists of the 20th century, with over half a billion records in circulation. A multimedia star, from 1934 to 1954 Bing Crosby was a leader in record sales, radio ratings and motion picture grosses. His early career coincided with technical recording innovations; this allowed him to develop a laid-back, intimate singing style that influenced many of the popular male singers who followed him, including Perry Como, Frank Sinatra and Dean Martin. Crosby won an Academy Award for Best Actor for his role as Father Chuck O'Malley in the 1944 motion picture Going My Way, and was nominated for his reprise of the role in The Bells of St. Mary the next year, becoming the first of four actors to be nominated twice for playing the same character. In 1963, Crosby received the first Grammy Global Achievement Award. Crosby is one of the 22 people to have three stars on the Hollywood Walk of Fame (a star for Motion Pictures, Radio, and Audio Recording). Crosby was born in Tacoma, Washington, on May 3, 1903, in a house built by his father. In 1906, Crosby's family moved to Spokane, Washington. In 1913, Crosby's father built another house which now sits on the campus of Bing's alma mater, Gonzaga University. He was the fourth of seven children. His parents were, Harry Lincoln Crosby (1870–1950), an English-American bookkeeper, and Catherine Helen (known as Kate) Harrigan (1873–1964), who was a second generation Irish-American. Bing's paternal ancestors had emigrated to what would become the U.S. in the 17th century, and included Patience Brewster, the daughter of the Pilgrim leader and Mayflower passenger William Brewster.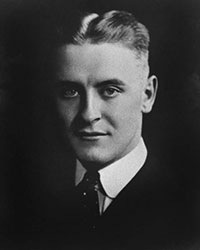 F. Scott Fitzgerald
Francis Scott Key Fitzgerald (September 24, 1896 – December 21, 1940) was an American author of novels and short stories, whose works are the paradigm writings of the Jazz Age, a term he coined himself. He is widely regarded as one of the greatest American writers of the 20th century. Fitzgerald is considered a member of the "Lost Generation" of the 1920s. He finished four novels, This Side of Paradise, The Beautiful and Damned, Tender Is the Night and his most famous, the celebrated classic, The Great Gatsby. A fifth, unfinished novel, The Love of the Last Tycoon was published posthumously. Born in Saint Paul, Minnesota, to an upper middle class Irish Catholic family, Fitzgerald was named after his famous second cousin, three times removed, Francis Scott Key, but was referred to as "Scott". Fitzgerald's given names indicate his parents' pride in his father's ancestry. His father, Edward, was from Maryland, with an allegiance to the Old South and its values. Fitzgerald's mother, F. Scott Fitzgerald Mary (Mollie) McQuillan, was the daughter of an Irish immigrant who became wealthy as a wholesale grocer in St. Paul.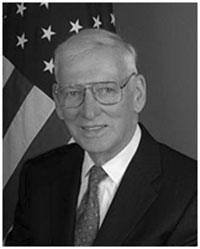 Daniel Rooney
Dan Rooney (b. July 20, 1932) is the son of Kathleen (nee McNulty) and Art Rooney whose family hails from Newry in Northern Ireland. He is the Chairman of the Pittsburgh Steelers, founded by his father Art Rooney. Dan Rooney was elected to the Pro Football Hall of Fame in 2000 for his contributions to the game. He is credited with spearheading a requirement that NFL teams with head coach and general manager vacancies interview at least one minority candidate, which has become known as the "Rooney Rule". Mr. Rooney has long been an advocate of Irish causes and in 1976 was co-founded the The Ireland Fund that has raised more than $300 million to further peace efforts and other charitable causes in Ireland. On St. Patrick's Day 1987, The Ireland Fund and the American Irish Foundation merged at a White House ceremony to form The American Ireland Fund and to become the world's largest private organization funding constructive change in Ireland both in Northern Ireland and in the Republic of Ireland. Dan Rooney served as Ambassador to Ireland from 2009 to 2012.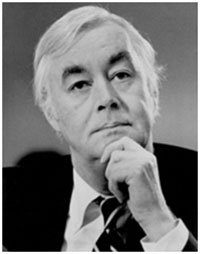 Daniel Patrick Moynihan
Educator, politician, sociologist and diplomat Daniel Patrick Moynihan (March 16, 1927 - March 26, 2003) had a long and varied career in academia, public service, and global affairs. Before becoming the 12th United States ambassador to the United Nations in 1975, Moynihan held cabinet or subcabinet positions under four U.S. Presidents: John F. Kennedy, Lyndon B. Johnson, Richard M. Nixon, and Gerald Ford. He served as the U.S. Ambassador to India from 1973 to 1975 and a U.S. Permanent Representative to the United Nations from 1975 to 1976, including a rotation as President of the United National Security Council. Moynihan is best known as a U.S. senator from the state of New York. He began his senatorial career in 1977 and served as a Democratic Party leader in Congress until he left Capitol Hill in January 2001. He was one of the "the four horsemen" along with Speaker Tip O'Neill, Senator Edward Kennedy and New York Governor Hugh Carey, who worked to craft a peace accord in Northern Ireland. He also co-founded the Congressional Friends of Ireland in 1981 with Speaker O'Neill and Senator Kennedy, an organization in the U.S. Congress to support peace and reconciliation in Northern Ireland. The chairman of key Congressional committees during his career in the Senate, Moynihan was awarded the Presidential Medal of Freedom in 2000. He became a scholar at Syracuse Senator Daniel Patrick Moynihan University's Maxwell School and the Woodrow Wilson International Center for Scholars after his retirement from political office. Moynihan was born in Tulsa, Oklahoma. His family moved to New York City when he was a young boy, and a strong loyalty and connection to New York would shape much of Moynihan's career in public life. He grew up with little means, experiencing a working-class urban street-wise childhood before graduating from high school in Harlem. Time in the U.S. Navy led to officer training and an undergraduate education, as well as active duty in World War II. Moynihan went on to earn a master's degree and Ph.D. in sociology from the Fletcher School of Law and Diplomacy at Tufts University, followed by a fellowship at the London School of Economics. He is survived by his wife Elizabeth (Liz) Brennan Moynihan and children Timothy, Maura and John and two grandchildren.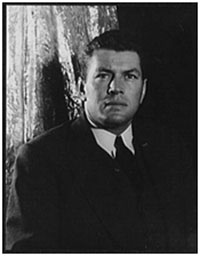 Gene Tunney
James Joseph "Gene" Tunney (May 25, 1897 – November 7, 1978) was the world heavyweight boxing champion from 1926-1928 who defeated Jack Dempsey twice, first in 1926 and then in 1927. Tunney's successful title defense against Dempsey is one of the most famous bouts in boxing history and is known as The Long Count Fight. Tunney retired as an undefeated heavyweight after his victory over Tom Heeney in 1928. He was elected as Ring Magazine's first-ever Fighter of the Year in 1928 and later elected to the World Boxing Hall of Fame in 1980, the International Boxing Hall of Fame in 1990, and the United States Marine Corps Sports Hall of Fame in 2001. Tunney, who enjoyed literature and the arts, was a former member of the United States Marine Corps. His nickname was The Fighting Marine. His parents were Mary Lydon from Culleen House, Gorthgarve, Kiltimagh, County Mayo, Ireland, who emigrated to the United States after the Great Famine. She settled in New York City where she met John Tunney, also from Cill Aodain, Kiltimagh, County Mayo, Ireland.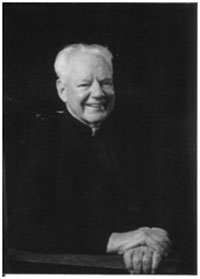 Monsignor Ignatius McDermott
A native of Chicago's South Side, Monsignor Ignatius D. McDermott (July 31, 1909 - December 31, 2004), the co-founder of the Haymarket Center in Chicago, IL, has quite possibly done more than any other single person to ease the plight of addicted and homeless Chicagoans. After working for four decades to improve living conditions and access to treatment for the denizens of Chicago's Skid Row, he was known as the "Apostle of the Alcoholics," the "Skid Row Priest," and with great affection as "Father Mac." Father Mac founded the Central States Institute of Addiction (CSIA) in 1963. One of the most widely recognized and praised CSIA program was the Alcohol and Drug Assessment Services (ADAS). This program was the model for similar methods of treatment now used throughout the nation. In 1963 he also founded the McDermott Center for drug treatment, which later became the McDermott Foundation, and which provided funding to allow Father Mac to purchase a block of buildings in the old Skid Row neighborhood in 1983. Thus, the treatment center came to the people who needed it. In 1975, Father Mac, then president of the Chicago Clergy Association for the Homeless Person, and James W. West, M.D., later a director of the Betty Ford Center, co-founded the Haymarket Center. Haymarket was the first free-standing, social-setting detoxification center in Illinois. The renovated McDermott Center is now the permanent home of Haymarket Center. In the years since it first opened, Haymarket Center has helped tens of thousands of men and women to recover from alcohol and substance abuse and again become healthy members of society. Upon his passing, one newspaper headline read, " The poor and forgotten lose a hero, "Father Mac". Monsignor Ignatius D. McDermott was not just a hero to the poor and forgotten but to a great city, black, white , red, or yellow; young and old, from corporate offices to back alleys. His determination, straight forward way and non-judgmental caring reached out to those in need. He surrounded himself with talented, understanding and determined people committed to making a difference. He made a difference and instilled that spirit in McDermott and Haymarket Centers to continue the work, for the need is great. "You can always rest in eternity," he would say.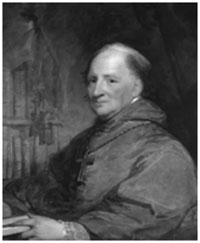 Archbishop John Carroll
John Carroll (1735-1815) was a prominent American Roman Catholic priest best remembered as the first Bishop in the United States and the first Archbishop of Baltimore. Born on January 8, 1735, in Upper Marlborough, Maryland, John Carroll was the son of Daniel Carroll and Eleanor (Darnall) Carroll. John Carroll was educated at home, presumably by his mother. At age 12, he attended the Jesuit school at Bohemia Manor, Maryland. At age 13, he was sent to school at St. Omers in France. In 1753, Carroll entered the Jesuit novitiate in Watten. Next, he studied at Liege. He was ordained in Leige in 1767. In 1773, the Society of Jesus was suppressed. Carroll returned to America as the American Revolution developed. In 1776, he accompanied Benjamin Franklin, Samuel Chase, and Charles Carroll as commissioners to Canada. After the war, John Carroll helped organize the Catholic Church in the new, independent United States of America. On November 14, 1789, John Carroll was appointed Bishop of the United States. John Carroll became involved with several educational initiatives. In 1789, he founded Georgetown College (now Georgetown University), the first Roman Catholic college in the United States. Moreover, he was instrumental in creating St. Mary's Seminary in Baltimore and Mt. Saint Mary's College in Emmitsburg, Maryland. Bishop John Carroll supported the construction of a cathedral in Baltimore, but he did not live to see its completion in 1821. He became the first Archbishop of America in 1811. John Carroll died on December 3, 1815.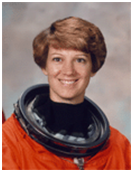 Eileen Marie Collins
Eileen Marie Collins (b. November 19, 1956) is a retired American astronaut and a retired U.S. Air Force Colonel. A former military instructor and test pilot, Collins achieved several firsts in the history of space travel. In 1995, when she took the helm of the Discovery, she became the first woman to pilot a space shuttle. Collins was the first woman to command a space shuttle in 1999; and in July 2005 she commanded the much-anticipated launch of the first space shuttle since the disastrous Columbia voyage in 2003, during which all seven astronauts were killed on board. Collins's 2005 mission was considered key to the future of manned space flight, since the focus was to test out new safety measures and repair techniques. When the U.S. Air Force began accepting women as pilots, Collins was among the first group of 120 females to apply and one of only four women accepted. After a year of training, she became the U.S. Airforce's first female flight instructor. She served as an assistant professor of mathematics at the U.S. Air Force Academy and earned a Master's degree in operations research from Stanford University and a Master of Arts degree in space systems management from Webster University in St. Louis. Collins retired on May 1, 2006 to pursue private interests, including service as a board member of USAA. She is married with two children. Collins's parents were James E. and Rose Marie Collins, immigrants from County Cork, Ireland. She has three siblings. As a child, Collins expressed an interest both in space flight and in being a pilot.