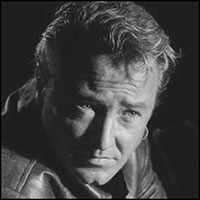 Michael Flatley
Michael Flatley, Irish-American dancer, choreographer and musician, is internationally known for his Irish dance shows Riverdance, Lord of the Dance, Feet of Flames and Celtic Tiger. Flatley was the first American to win the World Irish Dance Championship and won numerous All-Ireland Flute Championships. In 1991, Michael was declared a "national treasure" by President, Ronald Reagan. He is featured in the Guinness Book of Records, as he twice broke the world record for tapping speed. He first broke the record in 1991, when he tapped at a speed of 28 taps per second, and then again in 1998, when he tapped at the rate of 35 taps per second.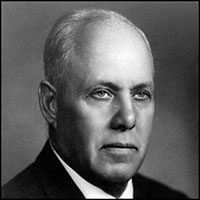 George Meany
George Meany led labor union federations in the United States. He served as President of the American Federation of Labor (AFL) and proposed and managed its merger with the Congress of Industrial Organizations (CIO). Known for his personal integrity and opposition to corruption, he served as the President of the AFL-CIO from 1955 to 1979.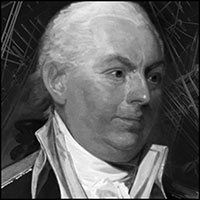 Commodore John Barry
Commodore John Barry, credited as the "Father of the American Navy", was an officer in the Continental Navy during the American Revolutionary War, appointed a Captain in 1775 in the Continental Navy and later the U.S. Navy. He was the first Captain placed in command of a U.S. warship commissioned for service under the Continental flag. He was a native of County Wexford, Ireland.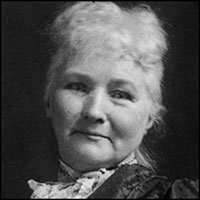 Mother Jones
Mary Harris "Mother" Jones was a labor activist, teacher and community organizer born in County Cork. Once called the "grandmother of all agitators" on the floor of the U.S. Senate, Mother Jones was a tireless advocate on behalf of children and is best known for her "Children's Crusade" in which she led child workers on a march from Pennsylvania to President Theodore Roosevelt's home in New York. The campaign slogan was "We want to go to school, not the mines." Mother Jones revolutionized the way America treated its child workers.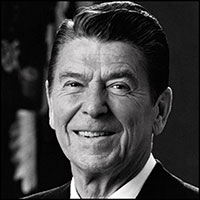 Ronald Reagan
Ronald Reagan was the 40th President of the United States and the 33rd Governor of California. As President he was known for supply-side economics or "Reaganomics", taking a hard line against labor unions, and foreign matters such as ending the Cold War by negotiating with Soviet General Secretary Mikhail Gorbachev and creating the Intermediate-Range Nuclear Forces Treaty which culminated in both countries decreasing their nuclear arsenals. Prior to his political career, Reagan was an actor whose most notable films included Knute Rockne, All American, Kings Row and Bedtime for Bonzo. He served as President at the Screen Actors Guild.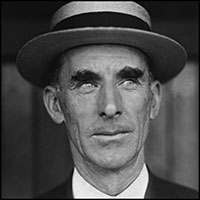 Connie Mack
Connie Mack (born Cornelius McGillicuddy) was an American professional baseball player, manager, and team owner. The longest-serving manager in Major League Baseball history, he holds records for wins (3,731), losses (3,948), and games managed (7,755), with his victory total being almost 1,000 more than any other manager. He managed the Philadelphia Athletics for the club's first 50 seasons of play before retiring at age 87 following the 1950 season, and was at least part-owner from 1901 to 1954. He was the first manager to win the World Series three times, and is the only manager to win consecutive Series on separate occasions (1910–11, 1929–30); his five Series titles remain the third most by any manager, and his nine American League pennants rank second in league history. Mack was elected to the Baseball Hall of Fame in 1937.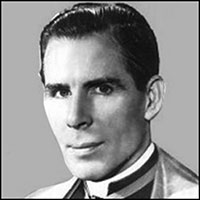 Bishop Fulton J. Sheen
Bishop Fulton J. Sheen is often referred to as the first televangelist who used TV to spread the Gospel and impact people's lives in a positive way. He won an Emmy Award for Most Outstanding Television Personality. He was consecrated a bishop on June 11, 1951, and served as an Auxiliary Bishop of the Archdiocese of New York from 1951 to 1965. He held this position until 1966 when he was made the Bishop of Rochester. Sheen held that position for three years before resigning and being made the Archbishop of the Titular See of Newport, Wales. For 20 years he hosted the night-time radio program The Catholic Hour (1930–1950) before moving to television and presenting Life Is Worth Living (1951–1957). Sheen's final presenting role was on the syndicated The Fulton Sheen Program (1961–1968). His cause for sainthood was officially opened in 2002 so he is now referred to as a "Servant of God."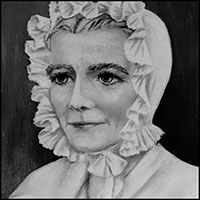 Mother Mary Frances Clarke, BVM
Mother Mary Frances Clarke, BVM, founder of the Sisters of Charity of the Blessed Virgin Mary, was born in Dublin, Ireland, and after a plague outbreak in 1828, she and a group of friends began a school for girls as a way to help in this desperate time. A Catholic missionary priest from Philadelphia convinced Mary Frances Clarke and her friends, Eliza Kelly, Margaret Mann, Rose O'Toole and Catherine Byrne to come to America. The young women set off for America in 1833 to teach the poor girls of Irish immigrants, supporting themselves by working in a garment factory. Mary Frances and her friends were encouraged to form a pious society to strengthen their commitment and to attract others so that they might expand the work they were doing. On November 1, 1833, the five young women pronounced private vows of poverty, chastity and obedience. This action brought into existence the Sisters of Charity of the Blessed Virgin Mary (BVMs). Nearly 5,000 women over the past 170 years have entered the Sisters of Charity, BVM to carry on the spirit of Mary Frances Clarke. The BVMs have staffed U.S. schools in 109 cities in 21 states, (194 elementary schools and 67 secondary schools/academies) and have established two colleges – Clarke University and Mundelein College, now part of Loyola University Chicago. They have missioned in 16 foreign countries.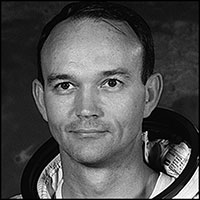 Michael Collins
Michael Collins, Major General, U.S. Air Force (ret.) and former NASA astronaut, served as command module pilot on Apollo 11, July 16-24, 1969--the first lunar landing mission. He remained aboard the command module, Columbia, on station in lunar orbit while Neil Armstrong, spacecraft commander, and Edwin "Buzz" Aldrin, lunar module pilot, descended to the surface of the moon in their lunar module Eagle. Collins was one of the third group of astronauts named by NASA in October 1963. He served as backup pilot for the Gemini VII mission and as pilot on the 3-day Gemini X mission, launched July 18, 1966. He was presented the Presidential Medal for Freedom in 1969 and is a recipient of the NASA Exceptional Service Medal, the Air Force Command Pilot Astronaut Wings, and the Air Force Distinguished Flying Cross. After leaving NASA in 1970, he served as the Director of the National Air & Space Museum, Smithsonian Institution, in Washington, D.C. He was recognized along with his Apollo 11 crew members by President Barack Obama on the 40th anniversary of their lunar mission.